Give Yourself Thanks This Thanksgiving By Christy Lamagna CMP, CMM, CTSM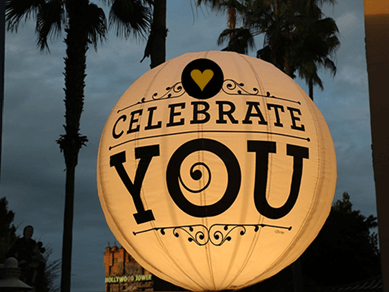 In January I committed to making 2019's columns about YOU. From lifelong learning and goal setting to finding a support team and being accountable, we've covered a lot of ground. With the year 90% completed, how are you feeling in the present moment? Share your story by emailing me at Christy@strategic.events.
The holiday kickoff has officially started with Thanksgiving around the corner, which for many means a season of bliss and for others a time of sadness. Whether you're ready to deck the halls or deck the next person who aggravates you, spend a few minutes with me and reflect on all you've got to thank yourself for this year.
Yes, this is about thanking you. While the season is traditionally about celebrating others, I'd like you to take a moment to direct your attention inward and acknowledge the rock star status you deserve. We spend so much of our lives doing for others that we forget ourselves. So, while it's important to give thanks for the people in your life, first take a moment to celebrate yourself.
If that sounds strange, you're in great company. We're not accustomed to being kind to ourselves and giving ourselves grace for who we are, imperfections and all. Oftentimes we use the holidays to reflect on what we don't have, what we are ending the year without accomplishing, and all we must do to make up for it in the New Year.
Rather than getting caught up in the downward spiral of what isn't, take a moment to reflect on all that is, and all you contributed to the success of others as well as yourself. How many people have you lifted with a word, smile, or kind deed? How many times have you put yourself out to make someone else's life easier? How many times have you volunteered to drive, buy, bake, share, participate in, advise on, or contribute to?
I imagine you may be stuck for a moment as you're activating a muscle you don't often use, but once you get started, the list takes on a life of its own. Allow yourself a few moments to let the list grow. Take the time to acknowledge all you've selflessly done.
It's easy to overlook the good stuff as we tend to fixate on what isn't; what we still haven't mastered, haven't accomplished, haven't done. The truth is, for as long as we're alive there will be things we've yet to do; that's what makes tomorrow and the next day so full of potential. The chance to continue to accomplish and achieve is often overshadowed by the weight we place upon what we've yet to do. Think of the wasted energy we expend when we frame a goal we've yet to achieve as a failure instead of an opportunity.
This Thanksgiving, give yourself thanks for all you've done to make the world a better place, for the risks you've so bravely taken, for the joy you inspire. The world would not be the same without you, so celebrate all you bring to it. As for the things you've yet to accomplish, there's always tomorrow. Today, celebrate and give thanks to the wonderful you!
Want more info on goal setting, accountability and overcoming resistance? Find Christy at Christy@lifelivedstrategically.com