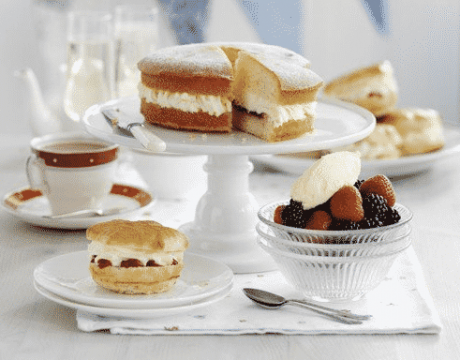 The Victoria Sponge Cake was named for Queen Victoria of England, as it was one of her very favorite delights during teatime. One of the Queen's ladies-in-waiting was the 'creator' of teatime and before long the Queen and London high-society had adopted the concept of afternoon tea as part of their daily routine.
In Greenwich Village, New York you can find a little café called Tea & Sympathy which offers the best Victoria Sponge Cake this side of the pond. This recipe is an adaptation of their memorable dessert.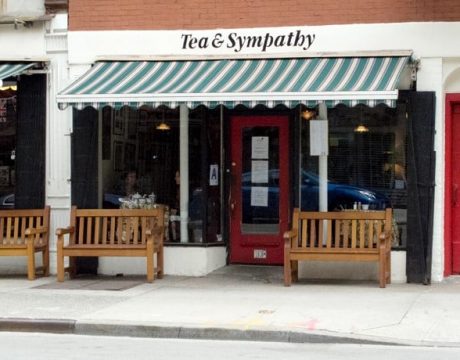 INGREDIENTS
12 Tablespoon unsalted butter (1 ½ sticks), softened, and a little extra for greasing the pans
1 1/3 Cups all-purpose flour
3 ¼ Teaspoon baking powder
½ Teaspoon salt
¾ Cups plus 2 tablespoons. granulated sugar
3 Large eggs, at room temperature
2 Tablespoon whole milk
½ Cup raspberry jam, more to taste as you desire
1 Cup heavy cream
1 Tablespoon confectioners' sugar
¼ Teaspoon vanilla extract
INSTRUCTIONS
Heat oven to 350 degrees and place a rack in the center of the oven. Grease and line the bottoms of two 8-inch round cake pans with parchment paper.
In a medium bowl, whisk together flour, baking powder, and salt.
In the bowl of an electric mixer, beat butter and sugar until light and fluffy, about three minutes. Beat in eggs, one at a time, until incorporated, then beat in milk, scraping down the sides of the bowl as necessary.
Mix in flour mixture until combined, then scrape into prepared cake pans, smoothing the top.
Bake cakes until golden brown and springy, and a toothpick inserted in the center comes out clean, 25-30 minutes. Let cool for 10 minutes, then unmold them onto a wire rack to cool completely, flat side down.
Transfer one cake (the less attractive one) to a serving platter and spread jam evenly on the top.
In the bowl of an electric mixer, whip cream, confectioners' sugar, and vanilla just until it holds stiff peaks. Dollop about half of the whipped cream on top of the jam, then top with the remaining cake. Dust with confectioners' sugar and serve immediately, with the extra whipped cream on the side.
TasteBuzz is rising to a new level for 2020. Rather than offering kitchen gadgets to help you in your recipe preparation, we are collaborating with people in our network to bring you phenomenal beverage pairings for each delicious treat.
This month's pairing comes from Cory Warfield, who spent 20 years working in restaurants before pivoting into a technology entrepreneur, using data to help solve the complications of scheduling staff in the restaurant industry. Cory has worked nearly every station in restaurants, as well as working on F&B programs, executive leadership, and as a restaurant consultant. Cory is now a social media influencer, the CEO of Shedwool, and a mentor with Founder Institute. He is also a regular guest on hospitality podcasts as well as co host of the up-and-coming "Work This Way" podcast.
"The Zardetto Prosecco is great for this," expressed Cory. "It offers a creamy mouthfeel, tight bubbles, and is nice and dry. And it's a sweet price point!"