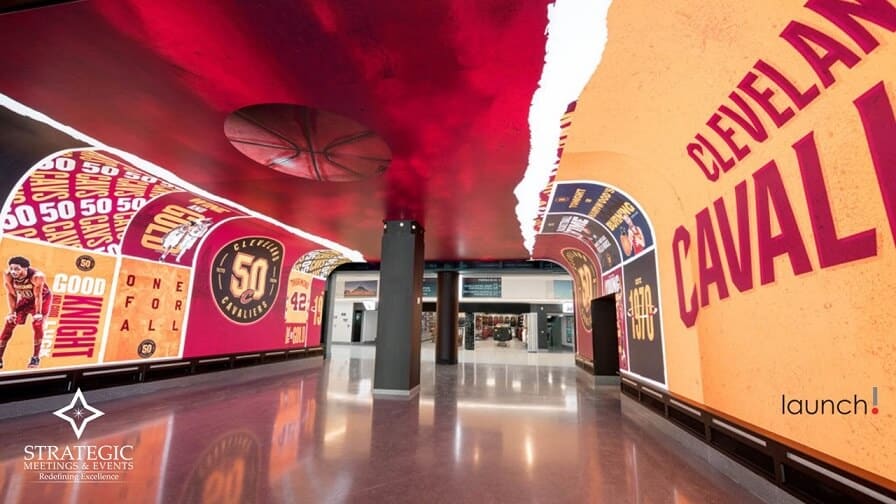 Meetings are the only three-dimensional embodiment of marketing messages, making them the most powerful marketing tool there is. Creating an environmental design, including technology, which captures attendees and leads them in the direction of your goals through all of there senses, while supporting good communication and continued learning is the gold standard.
Christy: Tell me about good set design and what factors into it.
TLG: We have a strong theatrical background. I was an actor and director for years. Alina was a production stage manager. We rely heavily on those skills when we set up these meetings, because we get one shot to make it right. And you want to have all the supporting elements behind you, not just the audio visual.
Christy: Can you give me an example of this in action?
TLG: We have a client with a very engaging personality who holds town halls all the time. We knew we could bring so much more to the event so we said, "Will you trust us to change things up? We've gotten to know you and understand your personality and the audience's personality when it comes to engaging with you." And he agreed to let us design something new.
We replaced the traditional stage and placed him in the round. People were right up against the stage. We wanted everyone looking right at him, so we put the screens around the outside of the room instead of overhead. They were immersed in his facts, figures, and in the way he tells a story, it all kind of wrapped up around them. It was the most engaging time that they've ever had with him.
When it was over, his wife gave me a huge hug, then turns to him and says, "You're a rock star!" and he said, "You're right."
Christy: I can see how that would be engaging and effective. What a refreshing and intuitive perspective.
Let's change topics and talk technology. We're all dealing with three, and sometimes four, generations in the audience which is tricky. Couple that with meeting planners who oftentimes think technology is complicated, expensive, and who have succeeded in their career thus far without it so there's a built-in resistance. How do you address that?
TLG: I think it's about bringing in the technology in small doses in order to test it, not only for the planners' comfort level, but for the comfort level of the attendees.
Christy: For someone who has not yet embraced meeting technology, what would you suggest they start with?
TLG: Online agendas, so that you can perform push notifications when there are announcements, updates, or changes. It's a game changer. We don't push anyone to change. We frame it as, "What if we tried X, Y, and Z? There might be more success and you might have more success." We always frame it that way to the meeting planners. We want them to be the star of the show.
Christy: What about your techie clients? What's on the bleeding edge right now?
TLG: It's a tough call because it must be the right fit. You can't just do it because it's cool.
When attendees can get in and get interactive, that's huge. I'm a fan of Facebook and Twitter feeds. They aren't new technology, but I love seeing them at meetings. It encourages everybody else to take photos, have fun, and share.
I think we're going to "everything old is new again." I think we're going back to a time where you want your attendees to unplug for a little while and be engaged in a way that is more dynamic. It's slowing your brain down so you can engage and retain information and be in the moment.
One way we're doing that is creating nooks and crannies and places for people to get away and have a meeting within a meeting. Sometimes they even include good, old-fashioned paper and pens.
More and more people are pushing for serendipitous encounters. Attendees don't get that time with their executive leadership; they don't get that quiet one-on-one time or that quiet small group time.
Christy: Your answer reflects your core values and how you treat your clients. It's one thing to say it, but you demonstrated it in that answer.
We all want to do business with people, businesses, and brands we enjoy. Dennis and The Launch Group team are pleasantly honest, open, and confident in their abilities. It's refreshing.
More to come in Part 4 – Extra Planner Tips, next.