Stainless Steel One-Step Cutter Watermelon Cubes Slicer &
Mellon Baller Scoop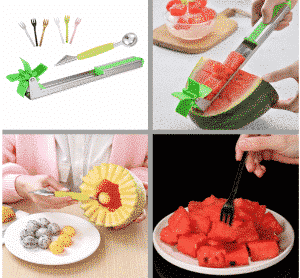 Nothing beats the refreshing taste of watermelon on a hot summer day.  And with recipes popping up all over calling for this delicious ingredient, having the perfect tool on hand to make preparation easier is key. We all know that we eat with our eyes first so, food presentation is almost as essential as its flavor. 
That's why we're especially pleased with the stainless steel 18/8 One Step Cutter.  Its unique slicing mechanism allows you to get the perfectly uniform cubes you've been striving for in one easy step. Just push! This handy gadget quickly and effortlessly cuts into the watermelon, allowing for fast and easy serving, straight out of the melon and onto the plate. The best part is there is no more drippy watermelon mess that until now has been synonymous with cutting watermelon.  A final bonus is its design. With round edges and non-sharp blades this kid friendly tool means you can enlist your kitchen helpers without worrying about accidents. Get ready to slice, serve and share!
Happy summer from our taste buds to yours!