Marketing's Role in Incentivizing Performance
Presented By: Making A Marketer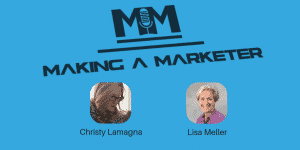 In Episode 32 we get real about incentivizing people. If you think incentive trips are a "boondoggle," you are wrong. Dead wrong!
It's incredible what the research shows incentives do for both the bottom line of your business AND the CULTURE. It isn't just about the sales team either if that's what you're thinking… this is a marketing tool that works both internally and externally for businesses that we should all know more about.
Our guests…
– Christy Lamagna, CMP, CMM, CTSM
CEO and Master Strategist at Strategic Meetings & EventsChristy is a professional speaker, writer, coach and proud owner of Strategic Meetings & Events. Her team produces goal-driven, event investments that support sales cycles, and bring marketing messages to life. They turn events into revenue boosters for elite sales and marketing professionals. Christy is the author of "The Strategic Planning Guide for Event Professionals," published in November. @SMEChristy
– Lisa Meller, CMP
Managing Director of Meller Performance Events GroupLisa is an expert corporate event designer, connector, and sourcing resource. Her original inspiration and spark came from personally achieving her first President's Club group travel award in the direct sales industry with Creative Memories, Inc. She realized the impact of inspiring and motivating people through rewarding motivational experiences – a different approach to improving lives from her field of study, which was cancer research.
On this episode, we learn the true value of the role marketing has in incentivizing performance across the company. If your company no longer has an incentive program, for sure you'll want to re-visit that after listening to this episode because it will pay dividends.
Mentions on the show…
– The research is the proof – Theirf.org
– "Love languages" doesn't just apply to romance, y'all! Love Languages
– We are doing business with HUMANS (not just businesses vs. consumers) – check out our Human to Human Episode
– One guest recommends this app that enables you to go straight to voicemail– Slydial