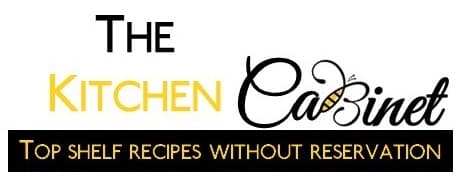 Kerry Simon's Ginger Garlic Shrimp with Tangy Tomato Sauce
Ask any event strategist what they did last week and they are likely to need a moment to remember which city they were in or what event they were working. After a few years of traveling the trips become a blur with a firm understanding that wherever you were going there wasn't enough time to get it all done, there was definitely not enough time for sleep and meals were eaten while walking to solve a problem, cold, wrapped in plastic or missed entirely.
Sometimes, when the planets align, and the food fairies are smiling upon us, we have a meal that is not just eaten while sitting down and with time to enjoy it but one that is worth remembering.  That happened to James, one of our team members, when eating at the L.A. Market in the JW Marriott Hotel, Los Angeles at LAX. The dish was ginger garlic shrimp and as he explains below, it was unforgettable.
When a forkful of something causes my taste buds do a happy dance it's a beautiful thing and this ginger-garlic shrimp was a full on party in my mouth!  I savored every bite of that shrimp and thought of it for years wishing I could get the recipe. Fast forward many, many long travel days and I am happy to announce that wishes do sometimes come true. I reached out to the JW Marriott at LAX in search of this recipe and am deliciously pleased to announce that they generously shared the recipe! So here is Kerry Simon's Ginger Garlic Shrimp with Tangy Tomato Sauce in all its flavorful glory!
First a bit about the dishes' creator, Kerry Simon. From tossing pizzas at age 15 at a Little Caesar's in suburban Chicago to creating the "perfect" omelet for Henry Kissinger's visits to New York's La Cote Basque, Chef Kerry Simon earned an international reputation as one of the country's most innovative and respected chefs. As someone who has enjoyed her cooking I can say with confidence that this recipe will become one of your go-to's for entertaining or for quiet dinners with family. No matter who you serve it to, expect it to be a hit and don't anticipate any leftovers!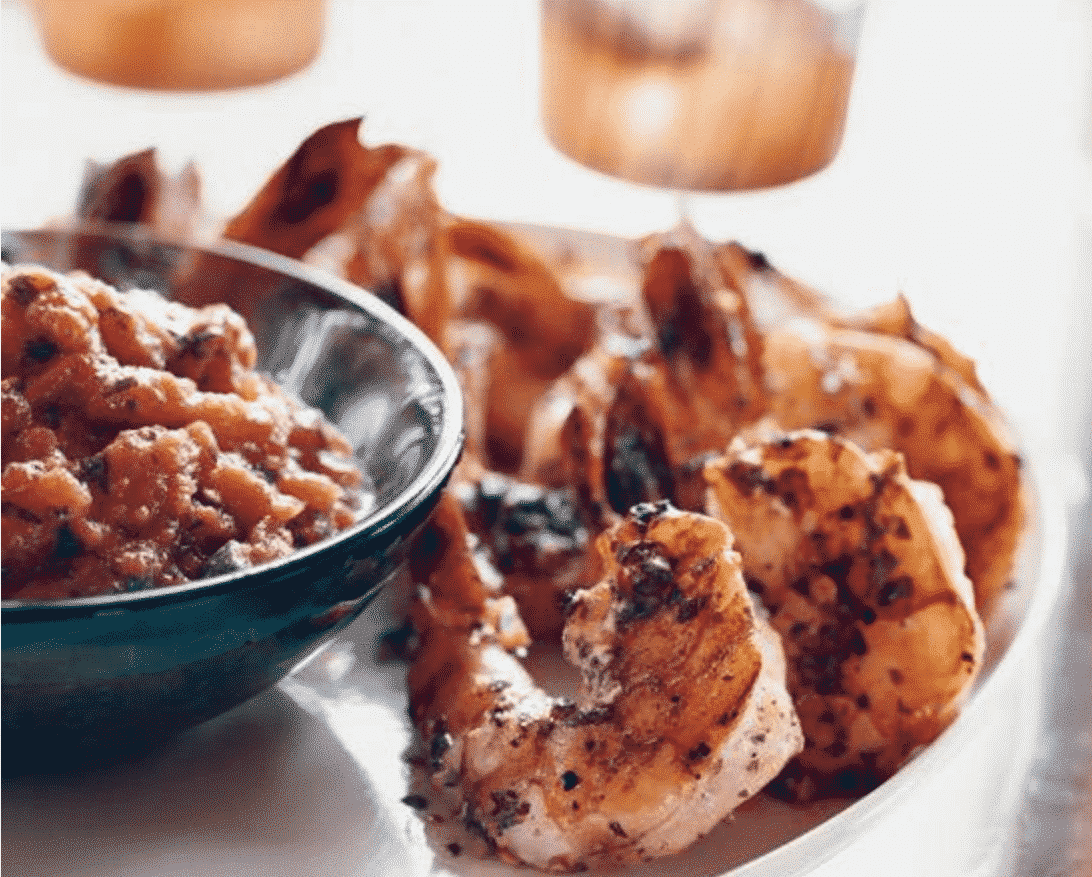 Ginger-Garlic Shrimp with Tangy Tomato Sauce
The marinade for Simon's shrimp—is a piquant mix of lemon juice, garlic, ginger, basil and parsley—would be equally good with pork or chicken. The dipping sauce is almost chutney-like with chunks of whole tomatoes; lemongrass and lime juice add tang.
INGREDIENTS
Shrimp
1/2 Cup vegetable oil
1/4 Cup finely chopped parsley
2 Tablespoons minced garlic
2 Tablespoons finely chopped basil
1 Tablespoon minced fresh ginger
2 Tablespoons fresh lemon juice
2 Teaspoons kosher salt
1 Teaspoon crushed red pepper
2 1/2 pounds large shrimp, shelled and deveined
INSTRUCTIONS
In a large bowl, mix the vegetable oil with the parsley, garlic, basil, ginger, lemon juice, salt and crushed red pepper. Add the shrimp and toss to coat. Cover and refrigerate for at least 2 hours and up to 4 hours.
Light a grill. Loosely thread the shrimp onto 10 skewers.
Grill over moderately high heat, turning once, until lightly charred and cooked through, about 5 minutes. Transfer the shrimp to plates and serve with the dipping sauce.
Dipping Sauce
INGREDIENTS
1 Tablespoon vegetable oil
1 Tablespoon minced fresh ginger
1 Large garlic clove, minced
3 Stalks of fresh lemongrass, tender inner bulb only, minced
1 1/2 Pounds tomatoes—peeled, seeded and coarsely chopped
1 Tablespoon fresh lime juice
2 Tablespoons chopped cilantro
Kosher salt
INGREDIENTS
In a medium saucepan, heat the vegetable oil. Stir in the ginger, garlic and lemongrass and cook over moderate heat until fragrant, about 2 minutes.
Add the tomatoes and cook over moderate heat, stirring occasionally, until slightly thickened, about 10 minutes. Let cool to room temperature, then stir in the lime juice and cilantro. Season with salt.
Transfer the dipping sauce to ramekins.