Get Strategic for 2020
By: Christy Lamagna CMP, CMM, CTSM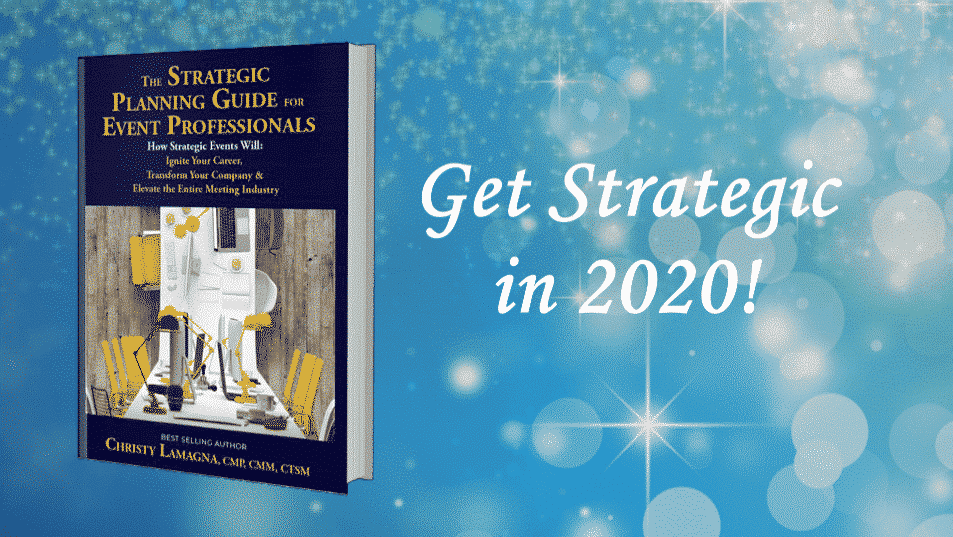 As we glide into the holiday season, I want to give you the gift of Focus for 2020. New Year's inspires many of us to turn our attention inward and focus on ways to improve as individuals. But, to truly make the most of the new year and to get strategic for 2020, I suggest you start now. Today. And continue working, daily, toward the priorities, goals, and dreams you have for yourself.
Hindsight is, in fact, 2020. Take inventory of your life, career, and goals. Celebrate your achievements and uncover hurdles which have held you up. Make December your time to strategically plan your life for 2020 and beyond, because life is the ultimate event. Now is the time to re-evaluate your goals, make adjustments, and plan your path to success. And don't forget the most important part, implementing the plan you have created.
As I state in my book, The Strategic Planning Guide for Event Professionals, you must start with the end goal in mind. What is the BIG goal you want to achieve this year? Write it down. Break your goal into three smaller goals, or guides, to keep you on track and moving toward your large goal. And ask yourself each day as you create your 'ta-da' list, "What can I do today, right now, to get me closer to my goal?" This routine will help you eliminate tasks which aren't helping you get to your goals.
It's that simple. Simple, but not easy. Having a goal (direction) and achievable guides to focus on are half the process, but you must be willing to do the hard work of achieving your goals. After a setback, it is necessary to recalibrate and do the work, again, and again, for as long as it takes.
I have one more tip for you. Surround yourself with people who will encourage you and your goal. Whether you find a mentor, mastermind group, or a great group of friends, having others around you who will be honest with you, help you, and cheer for you, goes a long way. Don't forget to thank those special people in your life and help them get strategic too.