If you are like me and enjoy baking treats that not only taste good but are pleasing to the eye, you are going to love this recipe!  While turning pages, searching for a new recipe for the holidays, I came across this idea and gasped.  In that second, I knew this was going to be my next project and couldn't wait to get started.
Making gingerbread houses is a tradition for many families but constructing and decorating them can be a lot of work. And most often the cookie houses aren't even eaten. This year, instead of making one big house that would sit on my table and be admired, I decided to make small gingerbread houses to give to my family. I promise you these cookies will be eaten and enjoyed! I plan on serving them perched on the edge of big mugs filled with hot cocoa for our holiday gathering!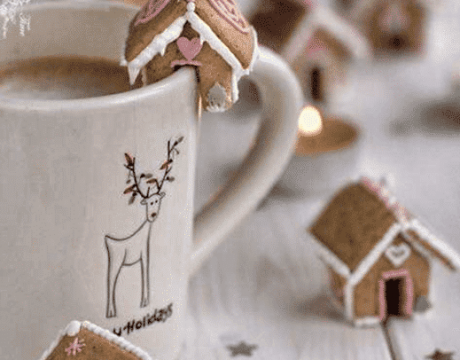 Mini Gingerbread Houses for Your Mugs
You can use your favorite gingerbread recipe or take a shortcut to simplify the process and use Betty™ Crocker Gingerbread Cookie mix and cut them using a 3-D gingerbread house cookie cutter, then decorate them with Betty™ Crocker Cookie Icing. I baked, assembled, and decorated my tiny village of gingerbread houses in just over an hour. Since the cookies will spread as they bake, it's best to cut the actual houses out of the baked cookies, not the dough.
Here's a trick for perfectly cutting out your cookies, when you're pressing the 3-D gingerbread house cutter from World Market,  into the freshly baked cookies, cut the cookies from the backside and the cookies won't crack. But you must move quickly, while the cookies are still hot.  For the cookie to sit on the edge of the mug you will need to add a doorway to the back of the house.  To do this just press the cutter with the doorway over the cookie and remove the doorway from each cookie. Be careful while piping the white cookie icing in a thin layer over the roof of the houses. The icing will drip down the roof, so be sure you don't add too much. You can store your gingerbread houses in a zip top bag or airtight container for up to two weeks. But they might not last that long!
INGREDIENTS
1-Pouch Betty Crocker™ gingerbread cookie mix
½ Cup (1 stick) butter, softened
1 Tablespoon water
1 Large egg
2 tubes Betty Crocker™ white decorating cookie icing
1 candy decorations: snowflake and red heart sprinkles
INSTRUCTIONS
Mix together the gingerbread cookie mix, butter, water, and egg.
Roll dough out on parchment paper lined baking sheet. Cut out eight large rectangle cookies, using a 3D gingerbread cookie cutter as a guide. Remove the excess dough and re-roll as needed.
Bake at 350°F for 14-16 minutes.
Remove from oven and immediately flip the cookies over.
Press the 3D gingerbread house cutter into the hot cookies, cutting out the parts for eight houses.
Break apart the gingerbread house cookie pieces. Cut out and remove the doors. Use kitchen shears or a knife to trim the jagged edges on your cookies.
Allow cookies to cool for 10-15 minutes before assembling the houses.
Use the white cookie icing to attach the cookie pieces together. Allow the icing to dry completely.
Decorate houses using cookie icing and sprinkles.
Set houses over the rims of hot cocoa mugs, serve, and listen for the applause!