PENNE WITH EGGPLANT, TOMATO & BASIL
HOME >> TASTEBUZZ
Taste Buzz Archive
Click to visit Taste Buzz Archive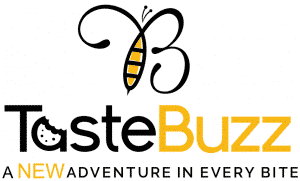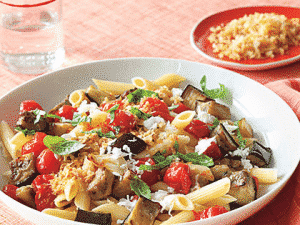 In a few, short months we say goodbye to daylight savings, night swimming, our favorite shorts and T-shirts, and all the other joys of summer. The good news is that right now, summer's bounty is at its peak. Tomatoes, corn, peppers, basil, and eggplant are at their peak flavor and ready to be diced, chopped, sautéed, grilled and enjoyed. Penne with tomato, eggplant and basil is an uncomplicated and delicious way to capture the abundance of summer flavors in an easy to make meal.
Penne with Eggplant, Tomato & Basil
INGREDIENTS
1/4 Cup plus 2 Tablespoons extra-virgin olive oil; more for drizzling
1 Medium eggplant (1 pound), cut into 1/4-inch dice (about 6 cups)
Kosher salt
1 Small red onion thinly sliced
1/4 Teaspoon crushed red pepper flakes; more to taste
1-1/4 Pound tomatoes seeded and cut into 1/2-inch chunks (about 2-1/3 cups)
3 Medium cloves garlic finely chopped
1 Cup roughly chopped fresh basil
3/4 Pound Penne rigate- dried
1/2 Cup coarsely grated Parmigiano Reggiano or ricotta salata
INSTRUCTIONS
Bring a large pot of water to a boil. Then well-salt the water.
Heat 1/4 cup of the oil in a 12-inch skillet over high heat until shimmering hot.
Add the eggplant and a generous pinch of salt.
Reduce the heat to medium-high and cook, stirring occasionally, until the eggplant is tender and light golden brown, about 6 minutes.
Transfer to a plate.
Reduce the heat to medium, return the pan to the stove, and add the remaining 2 tablespoons. oil, the onion, red pepper flakes, and a pinch of salt.
Cook until the onion is tender and golden brown, about 6 minutes.
Add the tomatoes and another pinch of salt, and cook until the tomatoes start to break down and form a sauce, about 3 minutes.
Add the garlic and cook for 1 minute.
Return the eggplant to the pan, add the basil, and cook for 1 minute more to let the flavors meld.
Taste the sauce and add salt if needed.
Cook the pasta in the boiling salted water until al dente.
Reserve a small amount of the cooking water and drain the pasta.
Put the pasta in a large bowl and toss with the eggplant mixture.
If the pasta needs a little more moisture, add a splash of the pasta water.
Taste and add salt if needed.
Put the pasta on a platter or divide among shallow bowls and finish with a drizzle of oil.
Sprinkle the Parmigiano or ricotta salata on top and serve immediately.