LEMON RICOTTA PANCAKES
HOME >> TASTEBUZZ
Taste Buzz Archive
Click to visit Taste Buzz Archive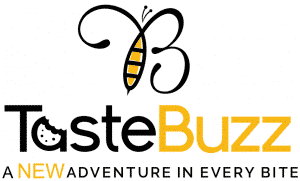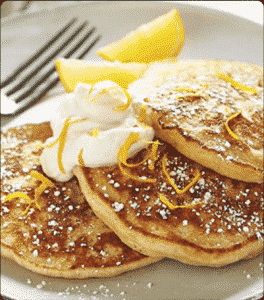 When I think of pancakes, I think of kids. I know adults eat them, but I can't bring myself to be one of them. I secretly wish I could give myself permission to sink a fork into the fluffy, sweet deliciousness of a stack of silver dollars but find myself pretending to enjoy egg white omelets instead, as that's what 'grow ups' eat.
Then the skies opened, and the sun shined down on a brunch menu I was reading. The Mockingbird Café in Basking Ridge New Jersey was serving lemon ricotta pancakes and I knew I had found food nirvana. These grown up version of pancakes are clouds of savory, rich, creamy lusciousness with a zing of lemon curd that made my taste buds dance. Plus, there was no sticky syrup to contend with which made it a win-win all around.
I'm sharing a recipe in hopes that you too will indulge in these puffs of bliss. After you make them, please let us know what you think and send us an Insta-licious picture that we can post!
Lemon Ricotta Pancakes
INGREDIENTS
3/4 Cup cold water or milk
1/2 Teaspoon baking soda
1/2 Cup ricotta cheese
1 Tablespoon grated lemon zest (just the yellow part of the skin)
1 Tablespoon vegetable oil
1 Tablespoon white sugar
1 Large egg
1/8 Teaspoon vanilla extract
2 Tablespoons melted butter
1 Tablespoon lemon juice
1 Cup self-rising flour
2 Tablespoons self-rising flour
INSTRUCTIONS
Whisk water and baking soda together in a mixing bowl.
Add ricotta cheese, lemon zest, vegetables oil, sugar, egg, and vanilla.
Whisk until smooth, breaking up lumps of cheese as you mix.
Add melted butter, lemon juice, and 1 cup plus 2 tablespoons self-rising flour.
Whisk together, stirring until most of the flour disappears into the batter.
Let batter sit at room temperature about 15 minutes.
Heat lightly greased cast iron skillet or griddle over medium-high heat.
Portion out 1/4 cup scoops of batter onto skillet, cook in batches.
When bubbles begin to form on the surface and the edges of the pancakes start to look dry (2 to 3 minutes), flip and cook other side until cooked through, 2 to 3 minutes.
Transfer to a warm plate.