GRILLED CORN ON THE COBB
HOME >> TASTEBUZZ
Taste Buzz Archive
Click to visit Taste Buzz Archive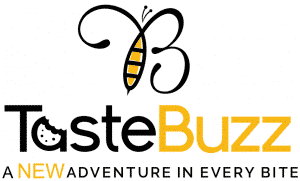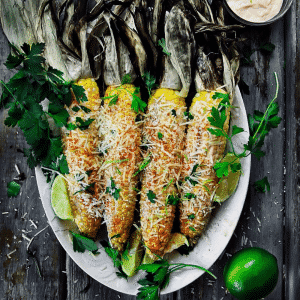 Is there anything better than biting into juicy corn on the cob at a BBQ? If you want to go beyond the traditional and delight your guests' taste buds, don't even think about just boiling it! It's easy to add flavor and dimension to your corn AND avoid heating up your kitchen with a pot of boiling water by grilling it instead. Grilling adds a smoky depth of flavor, a crisper texture and a beautiful color that you can't get from boiling. This surefire grilling recipe includes a fantastic topping to further enhance its flavor. We've tried it and promise that it is sure to become your new summer favorite side!
Grilled Corn on the Cobb with Husks and Mayo Sriracha Sauce
INGREDIENTS
6 Corns (or use as many as you want, just adjust the below accordingly.)
Water for soaking the corn
Sauce:
½ Cup olive oil Mayonnaise
½ Tablespoon Sriracha
¼ Teaspoon chipotle powder (or chili powder)
½ Zest from 1/2 lime
1 Lime juice from 1 lime
Topping:
Sauce
Grated Parmesan cheese
More chipotle powder
Chopped parsley, or cilantro or chives
Lime wedges for serving
INSTRUCTIONS
Take a few husks off the corn, leaving maybe 2-3 layers. Fill the pot w/water and let it soak for 15 minutes. This will keep the corn moist enough for grilling.
Preheat well-oiled/greased grill to medium-high. Put all the ingredients for the sauce together. Mix the sauce, cover and refrigerate until ready to be used.
Cook corn w/ husks for 15 min. Turning every 5-7 min. Remove from the grill, peel back the husk and return the corn to mark & lightly char on all sides.
After you return the corn on the grill, turn them as needed, for 5 minutes or more, depending on how you'd like it.
Brush the corn with the sauce, sprinkle with cheese (use cheese and sauce as needed), garnish with parsley and lime zest, and serve with lime wedges.