Fourth Burner Pot Comes in First for Versatility!
The Kuhn Rikon 11 Cup S/S 4th Burner Pot with Basket
We are buzzing with excitement over a versatile pot we found while investigating new kitchen tools to share with you! Our first thought was, 'who knew there was a pot specifically designed for the often unused, fourth burner?' Our second thought was, 'Will this really be useful?'  So, we dove a little deeper.  The more we learned, we knew we had to purchase one and check it out. Sure enough, it did all the things it promised so we're ready to share!  Read on to find out why this nifty gadget has just become our 'go to' kitchen tool.
This small pot packs a large punch. It's an 11 cup multi-pot with a wide range of uses, all while fitting on the small space allocated to the fourth burner on your stovetop.  (For those who are unaware, the fourth burner is the smallest burner on the stove in newer stoves or the burner that is left when you have three other, large pots/pans on the stove, leaving only a small bit of room on the stove for an additional pot/pan.)
We love that it has a pour spout, measuring markings inside, a lid with strainer holes, and a steamer basket insert.  Can you say all in one? Another thing we appreciated was the angle of the silicone covered handles, they don't stick out where it can be bumped, and they don't heat up.  The stainless-steel construction with encapsulated bottom makes it durable, dishwasher safe and easy to clean.  It seems like the perfect thing for cooking asparagus, potatoes, a couple ears of corn, and other vegetables. It would also be great for boiling eggs, and it would make a pretty good pasta pot, for smaller quantities (it only holds 3.5 quarts). The other feature of its design that put a smile on our face is that its shape works perfectly with an immersion blender because there is no splashing!
The fourth burner pot was designed by MarkCharles Misilli, and if you are a QVC fan you probably have seen him presenting most Sunday mornings during, 'In the Kitchen with Dave.' For over 18 years, MC has designed clever, useful, affordable kitchen gadgets, making him the kitchen guy that America trusts.  His latest cookbook, "Easy Everyday Favorites." sold over 52,000 copies, and we have one to share!
We reached out to MarkCharles, who shared one of his favorite recipes that can be cooked in the fourth burner pot. This asparagus with 'hurry up hollandaise' promises to be in an upcoming cookbook, but we got it first!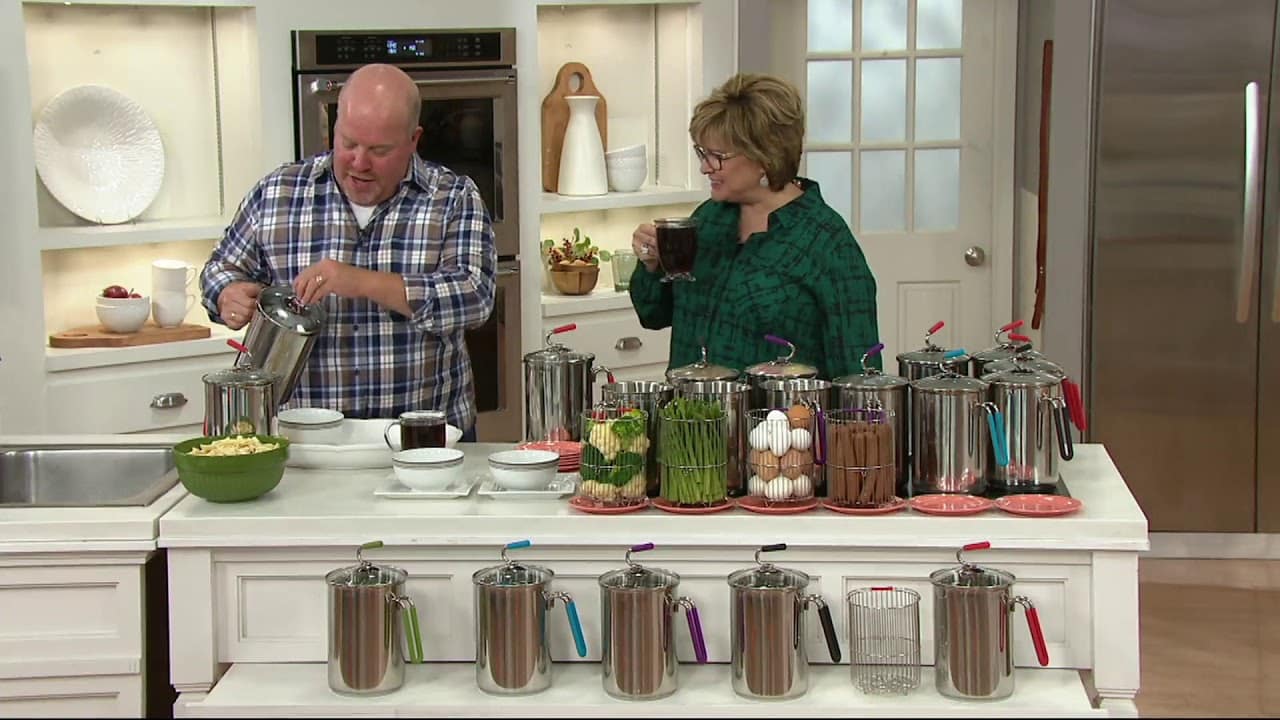 MC was so excited to be part of the TasteBuzz Hive, he's offered to send a personalized, signed copy of, 'Easy Everyday Favorites' to whoever sends in their favorite recipe to 

WeAreListening@strategic.events

 by June 8th. The best recipe will receive his signed cookbook and be featured in the TasteBuzz Newsletter!