For years the Strategic Meetings & Events team produced a meeting for a client whose event was held in New York City.  One of the goals on every program we produce is to introduce our clients to an authentic "taste of" the host city.
New York City is bursting with flavors; from street cart vendors, walk up window restaurants, mom and pop shops with authentic ethnic dishes, celebrity chef restaurants, elite, private dining and all things in between. Half our challenge was narrowing down what we were looking for; the best breakfast sandwich? The hottest street food? The latest in food fusion? We decided to cater to the client's sweet tooth and set out to find the ultimate bakery in the City.
The only criterion was to amaze our client and hear them exclaim," how do you always manage to find the perfect treats of us?"
After hours of mouth-watering research, we found our winner: the Levain Bakery, a neighborhood shop on the Upper West Side of Manhattan that has been baking out of this world treats since 1995. Not surprisingly, I had two teammates volunteer to help me check it out.
I still remember how it felt walking in. We were enveloped in a scented cloud of warm chocolate, butter, and cinnamon.  My eyes were immediately drawn to an overflowing display of enormous cookies. I knew we had scored when I looked at my team, whose eyes were fixed on displays of other baked treats. We were all in anticipatory heaven!
With so many options it was both hard to decide and obvious what to choose, chocolate chip cookies. Displayed before us were not run of the mill cookies. What lay just out of reach behind the glass was a full-on meal. It was suddenly clear why these softball-sized parcels of sweetness continually make "Best of New York" lists and are truly impressive both in size and the flavor they deliver.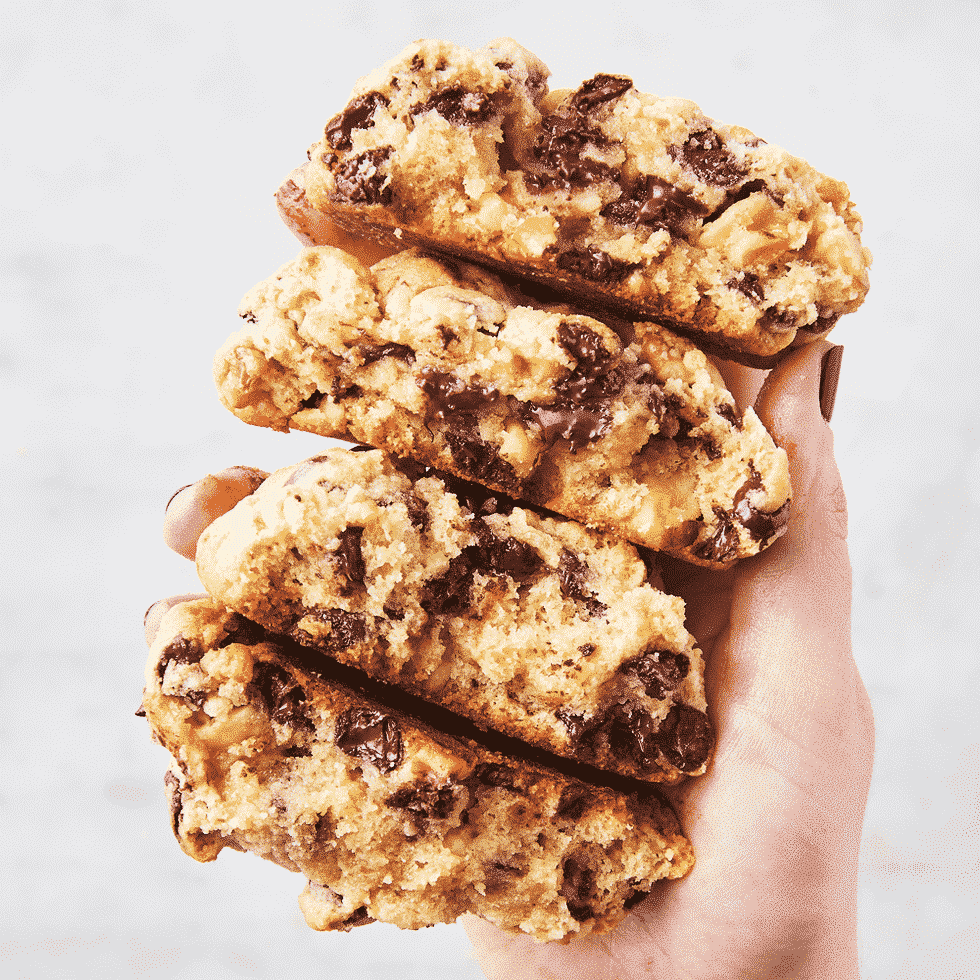 These are the BEST CHOCOLATE CHIP COOKIES EVER. Yep, I said it.  In fact, fast forward many years, and whenever we bring the client to New York they always ask… "will there be chocolate chip cookies?"
You can only imagine how excited we were when we found this copycat recipe from
Delish
which has captured the legendary essence of this amazing cookie from the Levain Bakery.
Copycat Levain Bakery Cookies
INGREDIENTS
2 Cups all-purpose flour
1 1/4 Cups cake flour
2 Teaspoons baking powder
1/4 Teaspoon baking soda
1/4 Teaspoon kosher salt
1 Cup (2 sticks) cold butter, cubed
2/3 Cup packed brown sugar
2/3 Cup granulated sugar
2 Cups dark chocolate chips
1 Cup very coarsely chopped walnuts, lightly toasted
2 Large eggs, lightly beaten
INSTRUCTIONS
Line two large baking sheets with parchment paper.
In a medium bowl, whisk together flours, baking powder, baking soda, and kosher salt.
In a large bowl using a hand mixer (or in the bowl of a stand mixer), cream cold butter on low speed until cubes lose half their shape, about 30 to 45 seconds. Add sugars and continue to cream briefly, 30 to 60 seconds more. Add chocolate and walnuts and beat until combined.
Gradually add flour mixture and beat to combine; mixture will be a bit crumbly. If any big pieces of butter remain, use hands to cut butter into smaller pieces. Add in eggs and beat until fully combined and smooth, forming a cohesive dough.
Portion large balls of dough, about 6 ounces or ¾ cup each. Place 4 balls of dough on each prepared tray and place in freezer. Let chill for 90 minutes.
When ready to bake, preheat oven to 375°. Place one empty baking sheet upside-down in oven and place one tray of frozen dough on top. Bake one sheet of cookies at a time, until edges and spots on top are golden, but insides are still slightly doughy, about 26 minutes.
Pour yourself a tall, cold glass of milk and devour!