Christy Lamagna Mentors the Events Industry By Matt Swenson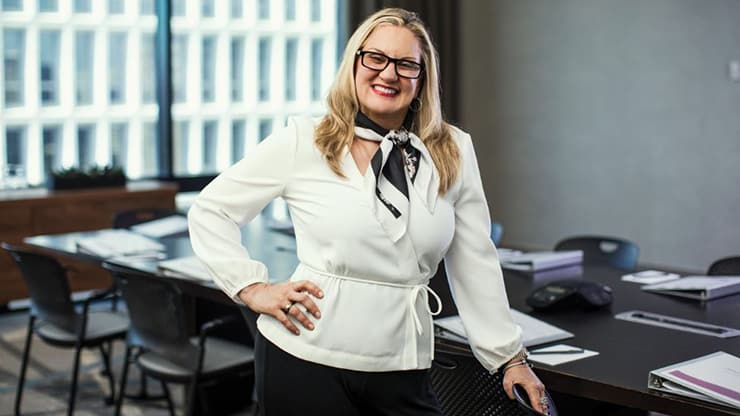 Christy Lamagna, CMP, CMM, CTM, began her career as a public relations coordinator at a hospital. Now one of most respected event professionals in the industry, Lamagna, CEO and master strategist of Strategic Meetings & Events, spends much of her time curing common ills seen in meetings and conferences.
Beyond planning events, she is one of the most-renowned speakers on the circuit and well-respected authors when it comes to planner self-help books. Her latest, "The Strategic Planning Guide for Event Professionals," was released in November. She is also one of four industry veterans involved in the recently launched Crowne Plaza Meeting Mentors program. She, along with Julian Lwin, Tahira Endean and Michaela Alexis, share insight and advice through blogs, videos, and other vehicles.
Connect spoke to the New York-based Lamagna about her rise from PR specialist to meetings guru.
How did you go from public relations at a hospital to planning events?
The best way to get press coverage was to hold an event and write about it before and after it occurred, or to speak at events about health-related issues. Once I felt the rush of public speaking and experienced the power of events and the logistics to manage, I knew I was going to be an event professional who also spoke professionally and wrote—instead of a writing professional who spoke occasionally and sometimes planned events.
What has set you apart in such a crowded field of event planners?
The events I produce help make money, and they do not simply spend the budget dollars allocated to them. Strategic Meetings & Events creates events that influence what target audiences feel, think, say and do, which shortens sales cycles and brings marketing messages to life. The accepted method of executing events is all about managing logistics, but that is an expensive way to complete 'to do' lists and has no positive effect on sales or attendee behavior.
What is the most common misconception among new event planners you run into?
So often, I hear that event planning is glamorous, fun and all about planning parties or that event planning is a job anyone can do.
Why start your own company? What are the advantages and disadvantages of being your own boss?
The freedom to work exclusively with people smarter than I am, whom I enjoy and respect was transformative. Creating a corporate culture that is supportive, communicative, empowering and fun is an incredible gift not just to me, but to my team, my clients and my vendors. The challenge is not having an IT department at the ready when things go wrong, and the responsibility of knowing other people trust me with their livelihoods for as long as they chose to share their talents. It is simultaneously motivating, humbling and daunting.
How did you get involved in Crowne Plaza Meeting Mentors program?
Crowne Plaza approached me about joining a panel of industry experts who would help to influence the brand's future meetings offerings. The brand explained that they are looking to better understand the needs of all those involved in planning a meeting, so Crowne Plaza can deliver a positive experience where planners feel supported. That was key to me because, so often, we as planners do not have good experiences with venues, as they do not take the time to listen to our needs. I have never had a hotel brand welcome my offer to lend my expertise in a way that would actually change how a brand looks at meetings.
How do planners adapt to the enhanced demands of attendees looking for beyond the meeting?
Creating an experience requires a paradigm shift. It means providing an event in which all the elements are intentionally placed to achieve the meeting's pre-determined goals. An essential component of this process is focusing on fostering personal connections. Much of that is achieved through choosing the right event host. It is about the space, how it is set up, the ability of the hotel team to help execute your vision and share their professional expertise to build upon and enhance yours.
Meeting planners need to evolve into strategists. That means, among other things, creating a transformative experience for their attendees. In order to create an experience, you have to have a strategic vision and a clear plan around achieving it. Strategic planning starts with asking, "What is my goal for this meeting?" and "How can I collaborate with my venue to achieve this goal?"
As this program is sponsored by Crowne Plaza, what makes a hotel the right fit for an event?
Hotels are unique in that they offer a variety of spaces to work with, from the massive ballroom to intimate conference rooms to restaurants/bars. These options allow you to host different parts of the event in a new setting, thus keeping the attention of your attendee and creating altered experiences. You do not get the same amount of options with other venues. In addition, if your event requires the attendee to travel, a hotel is the best venue option as they can take care of the overnight needs.
Crowne Plaza already offers meeting planners support that other hotels do not. Every Crowne Plaza hotel has a dedicated, onsite Meetings Director, specially trained by Meeting Professionals International, who offers support before, during and after the meeting/event to ensure that they run smoothly from start to finish.