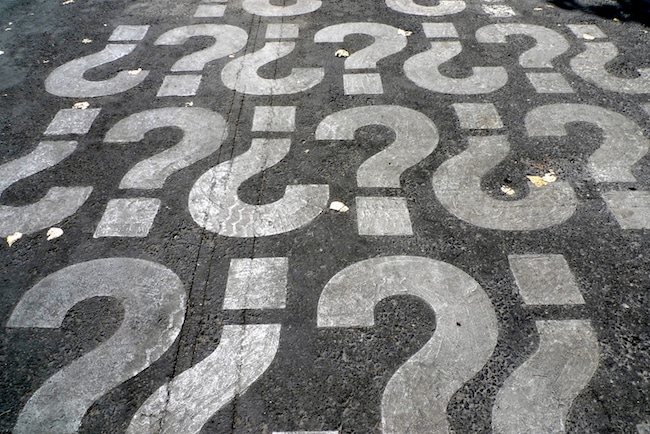 79 Questions To Ask When Defining Buyer Personas For Prospecting
By Dan Sincavage
What is a buyer persona?
It's a semi-fictional representation of your ideal customers that's based on data and market research on your current customers and the pain points that your product addresses.
Another great definition of buyer personas come from the Buyer Persona originator Tony Zambito, "Buyer personas are research-based archetypal (modeled) representations of who buyers are, what they are trying to accomplish, what goals drive their behavior, how they think, how they buy, and why they make buying decisions. (Today, I now include where they buy as well as when buyers decide to buy.)"
When creating buyer personas, it's crucial that you use complete data: from demographics, behavioral cues and patterns, to customer aspirations and motivations.
Largely, buyer personas are regarded as mainly the concern of marketing departments. However, as a sales professional, knowing and understanding your buyer personas will save you time when prospecting and also give you better sales intelligence when making calls.
Buyer personas are vital to the success of your company's marketing strategy but they're equally essential to achieving sales success.
The foundation of this belief in buyer personas is the fact that not all leads are equal. Not every contact with complete details is qualified. Not all people who opt-in are going to be sales-ready down the line.
Buyer personas fill a void that will meld sales and marketing together.
Whether your team is social selling, outbound prospecting, lead nurturing, or serving up content through automation, having the ideal customer in mind will help them zero in on valuable connections instead of wasting time trying to speak with everyone.
Straight talk: Having buyer personas for your ideal customers will enable your team to quickly choose leads who have the potential to fit the bill as an ideal customer and those who have no chance in a mile.
That said, it is very important to be thorough when creating buyer personas. Filling up forms and templates is a way to go at it–however, asking yourself probing questions that push you to explore, research and ask others is likely the best way to make sure all bases are covered.
To make sure you get to the meat of things the first time, I put together this list of 71 questions when creating your buyer persona. Some of these questions were inspired or lifted from references like SalesForce and HubSpot, along with questions that have worked for me when I build buyer personas.
Remember, you can never get too detailed with your personas–so don't feel silly asking very specific questions.
From the basic questions to the probing ones, these questions should provide you with enough ammo to create solid buyer personas.
Background

1) Is your buyer male or female?
2) How old is your buyer?
3) In which country were they born?
4) In which state/city were they born?
5) What is their ethnicity?
6) In which city/state/country did they spend their childhood?
7) In what city/state/country does your buyer live now?
8) What was their household average income when they were growing up?
9) What was their household's means of livelihood during childhood?
10) Does the buyer have siblings?
11) What were the childhood activities they enjoyed as a kid?
These questions may seem basic–but at the very least, knowing the answers to these questions opens up a multitude of doors when it comes to figuring out who your ideal customers are. Things like place of origin and household income contribute greatly to the type of businessmen and decision-makers people end up being–so don't skip this part.
Education
12) What school did they attend?
13) What type of school is this: Population? Public or private? Nationally ranked or not?
14) Did they go to college? What major?
15) How was their performance in school?
16) How was their social life in school?
17) What extracurricular activities did they participate in?
18) What was their average grade in school?
19) What's a notable achievement they got in school?
20) Did they encounter peer trouble in school?
21) What subject/s did they excel in?
22) What subject/s did they struggle in?
23) What were their aspirations while in school?
24) If they didn't go to college, what stopped them?
25) If they didn't go to college, what did they do after high school?
High school and college education both make up arguably the most formative years of our lives. Bill Gates recently said that people's spending instincts are pretty much set in high school. Knowing how they fared in high school and college would give you insight to several areas including their level of knowledge on certain topics, their decision-making skills when in a high-pressure situation, their preferences, the areas that interest them the most, how they prefer to engage in conversation and so on.
Employment & Personal Information
26) What was their first means of income?
27) What profession/job was their first full-time employment?
28) What was the size of the company they first worked for?
29) What industry did they start their career in?
30) What are their current job title?
31) What industry are they currently in?
32) How long have they been working at their current company?
33) How many promotions have they been given, if applicable?
34) What was the circumstance leading to their current job? Promotion? Cross-offer? Application? Headhunted? Recruited?
35) How many people are under them, if any?
36) What is the nature of their current job? Managerial? C-suit? Clerical? Etc?
37) What are their main daily tasks?
38) What are their strategic responsibilities?
39) How much do they make annually?
40) How much do they get after taxes each year, including bonuses?
41) What's their level of satisfaction regarding pay?
42) What's their level of satisfaction regarding responsibilities and career opportunities?
43) What's their level of satisfaction regarding their immediate superior?
44) What do they think should be improved as regard with their current role?
45) What is their ideal job?
46) Do they have plans pursuing their ideal job? Or are they currently working in their dream position?
47) What's their sexual orientation?
48) Do they affiliate themselves with a particular political party/leaning? What is it?
49) Are they involved in politics?
50) What are their advocacies?
51) What activities regarding their advocacies do they engage in?
52) What news sources do they trust?
53) Where do they usually access information?
54) What is their relationship status?
55) Do they have kids?
56) Who do they live with?
57) Do they rent, own, or lease a home? If none of these are applicable, what is their living situation housing-wise?
58) Do they have debt? How much/little
59) What is the nature of their debts if applicable?
60) What are their major financial assets and properties?
61) How would you describe their spending habits?
62) How important is their income to their household?
The more you know about the prospect, the better you can tailor your interactions to them. How does that work with personas, though? Since personas embody your likely and ideal customers, you will be able to create a wealth of tactics that will take into consideration many of the shared experiences, personal situations and preferences of the customer in mind when creating particular personas.
Technology
63) How "techy" are they?
64) Do they read tech blogs and news sites? Which ones?
65) Are they connected to the internet daily?
66) What devices do they access the computer from?
67) Are they on social media? Which networks? Which one are they most active on?
68) Do they shop online? Are they comfortable doing so?
69) Do they use software at work? What software?
70) What apps do they use?
71) What is their preferred channel for communication? Phone? Email? Social media?
Decision makers can come in varying levels of tech-savviness. Given that a large part of the products and services sold in the B2B context are software and software-related, it's crucial to get a grasp of a persona's tech knowledge and experience to ensure that each interaction is tailored to them. Some decision makers may be particular about usability and the compliance of a software to their existing systems, some may not be interested in the tech part of it all and just want to hear about the results. Most C-suite from software backgrounds tend to be interested in hearing more about how a product was built–out of personal and business interest.
Buyer Personas in the B2B context
Many marketers get stuck in the details of building buyer personas. Don't get me wrong–these details matter. But a complete buyer persona is what's going to be useful in the B2B scenario.
In the B2B world, deals are complex. One and done sales are rarer than pink diamonds.
According to Ardath Albee of Marketing Interactions, "For personas to become useful tools (in B2B), they must be based on interviews gathered from salespeople, customer service interactions and the buyers (customers) themselves."
Albee adds that not just any kind of interview will do.
"The conversations must be focused on what the buyer is trying to achieve."
Here are the questions proposed:
72) What's important to them and what's driving the change?
73) What's impeding or speeding their need to change?
74) How do they go about change?
75) What do they need to know to embrace change?
76) Who do they turn to for advice or information?
77) What's the value they visualize once they make a decision?
78) Who do they have to sell change to in order to get it?
79) What could cause the need for this change to lose priority?
Put personas to use
Personas have been around quite a while. In recent years, we've seen more and more sales and marketing organizations put an emphasis on creating buyer personas. However, most personas are kept in a file somewhere. What I mean is that most personas are not even put to good use! Or not even put to use at all.
Check in and update your buyer personas according to how your situation and the situation of your buyers change. Use them as tools in crafting sales strategies, have the sales enablement team continuously coordinate with the marketing department to ensure that your content is aligned with the needs and details of the buyers you want to reach.
Don't create buyer personas just because. Use them.