CHOCOLATE SALT AND PEPPER SABLE COOKIES
HOME >> TASTEBUZZ
Taste Buzz Archive
Click to visit Taste Buzz Archive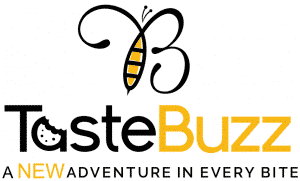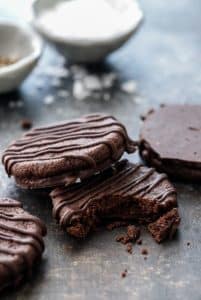 With so many traditional holiday cookies being baked and shared, we specifically went through our treasured recipes for something that would stand out from the crowd. The salt and pepper in combination with the chocolate make these luscious baked goods a wonderful addition to your dessert table.
Chocolate Salt and Pepper Sable Cookies
INGREDIENTS
1 1/2 Cups all-purpose flour
1/2 Cup Dutch-process cocoa powder, sifted
1/2 Teaspoon instant espresso powder (optional)
1/2 Teaspoon baking soda
1/4 Teaspoon Kosher salt
12 Tablespoons (1 1/2 sticks) salted European-style butter* such as Kerrygold, at room temperature
1/2 Cup packed light brown sugar
1/4 Cup granulated sugar
1 Egg yolk
2 Ounces dark chocolate (60-70%), grated or very finely chopped in a food processor
10 Ounces dark chocolate, chopped, for dipping/drizzling
Large flake sea salt (such as Maldon) and fresh coarse ground black pepper
INSTRUCTIONS
In a bowl, whisk together flour, cocoa powder, espresso, baking soda and salt until evenly incorporated. Set aside.
In a large mixing bowl or the bowl of a stand mixer, cream butter until fluffy, one to two minutes.
Add sugar and brown sugar and beat on medium speed until just incorporated (you don't want to overbeat this since the graininess of the sugar is what helps the cookie retain its sandy texture).
Mix in egg yolk, scraping down the sides of the bowl as needed.
Add dry ingredients and mix on low speed or by hand until mostly incorporated, then mix in grated chocolate.
The dough will be somewhat crumbly but should come together into a soft dough.
Knead once or twice to pick up any remaining dry bits and form it into a rough ball.
Split dough into two pieces and shape each into a log approximately 1 1/2-inches in diameter.
Wrap tightly in plastic wrap and chill until thoroughly set, at least 2 hours or overnight if possible. (Tip: place your roll in a paper towel tube to keep it round as it chills!)
Preheat oven to 350 degrees F. Line baking sheets with parchment paper or a silicone baking mat.
Unwrap one roll of dough.
Using a sharp knife, cut into rounds approximately 3/8-inch thick.
Arrange on baking sheet, leaving one- two inches of space between cookies.
Bake for nine to 11 minutes or until tops are set and bottom edges are just starting to darken.
Remove from oven and let cool for ten minutes, then transfer to a wire rack to cool completely.
Line a clean sheet pan with parchment paper or a silicone baking mat.
Sprinkle with a layer of flake sea salt and black pepper.
If you don't want to cover the whole sheet, create circular areas of salt and pepper where the dipped cookies will get placed.
Gently melt chocolate in a double boiler or in a microwave (heat in 30 second intervals at 50% power, stirring in between).
If you feel comfortable tempering chocolate, that's ideal as the cookies will be more stable at room temperature, but if not it's ok too.
Dip bottoms of cooled cookies into melted chocolate, then place onto baking sheet on loose salt and pepper.
Repeat with remaining cookies.
If you have leftover chocolate, transfer to a plastic squeeze bottle or piping bag and drizzle over top of cookies.
Let cool until chocolate hardens or refrigerate for 20 minutes until set.
If your chocolate wasn't tempered, store your cookies in the refrigerator in an airtight container (with parchment or waxed paper in between layers) for up to 5 days.
*This recipe uses European style butter, which has a higher fat content than American-style butter. The high fat/low water content makes the dough less crumbly and gives these cookies their distinctive texture. This is a splurge recipe, so go for the good butter and the good chocolate!